Electronics for Public Transport Vehicles
ELECTROCOMPONENTS FOR TRANSPORTATION
Nowadays, using 3-phase traction drives belongs to worldwide trends in electric traction. The main advantage of these drives is the use of 3-phase asynchronous motors, that are easier to produce, more reliable in running and need no service. About 40-60% of power can be saved by the use of 3-phase drives. The use of AC drives allows electrical energy recovery with an integrated electrodynamic brake.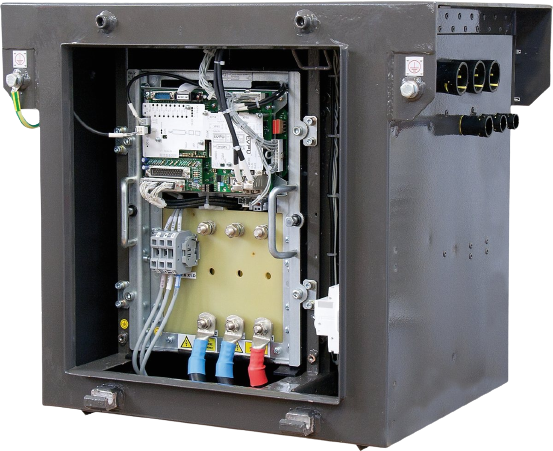 The drives are controlled from the vehicle control system via the CAN bus. Of course, there is control of the vehicle from the rear station and the operation of up to three coupled vehicles, controlled from one location. The traction drive system has several levels of back-up modes to allow an emergency run to fail in one traction group or control system or some other electrical equipment components. Armament is located in containers placed on the site of the original containers of electrical equipment. Electric equipment is intended for application to the T3 MOD tram, but in principle, it can be used in other types of trams after modification.
Realized projects:
Control and diagnostic system of the vehicle
The container of the main converters containing input choke, main inverters, brake resistor, and cooling fans of the container
The container of the auxiliary converters containing separating converter – stabilizer, the inverter of the auxiliary drives and static converter – charger
Traction asynchronous motor
Company EVPÚ, a.s. has integrated the equipment for the modernization of public transport vehicles in Slovakia, Spain, Italy and electric bus in the Czech Republic.