Electronics for diesel-electric locomotive
ELECTROCOMPONENTS FOR TRANSPORTATION
We offer a complete range of electrical systems for new and upgraded locomotives.
Reconstruction, modernization, and replacement of electrical equipment of diesel-electric locomotives allow to achieve significant savings in operation and in the maintenance of vehicles. The economical parameters, durability and installed power of locomotive are improved constantly.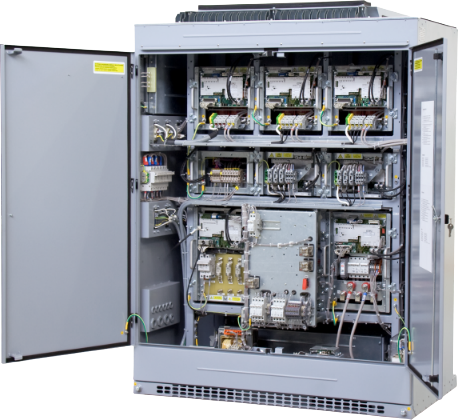 In accordance with customer's requirements, the replacement of electrical equipment brings specific above standard changes of vehicle's parameters:
Smooth, contactless, low-loss shunting;
Contactless change the direction of drive;
Contactless of drive-brake mode;
Full brake effect into lower speeds;
Smooth braking mode in 16 levels;
New functions of electrical equipment – interface with control system;
Reducing the number of control signals – CAN communication line;
Used modern semiconductor components;
Used control processor DSP type;
Charging on-board batteries with one 24 V battery charger from distribution mains and from auxiliary drives mains as well;
Asynchronous auxiliary drives replacement instead of previous DC drives.
Each successfully implemented project brings to EVPÚ a.s. experiences, that enable to offer individual technical solutions even for the most demanding operators and producers of vehicles.
The satisfaction of our customers, who have integrated electronics for diesel-electric locomotives from the production of company EVPU, is supported by implemented projects in Slovakia, Czech Republic, Poland, Latvia, Lithuania, Belorussia, and Italy.